Technical Session Topics Announced for GRC Annual Meeting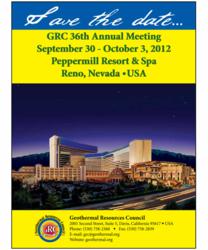 Davis, CA (PRWEB) June 13, 2012
The Geothermal Resources Council (GRC) is pleased to announce the topics for the Technical Sessions at the 2012 GRC Annual Meeting.
The topics on offer are:
African Rift

Basin & Range

Business Development

Case Studies

Coproduction

Direct Use

Drilling

EGS

Exploration

Geochemistry

Geology

Geophysics

Heat Pumps

Power Operations

Production Technology

Regulatory/Environmental Issues

Reservoir Management

Resource Assessment
The global geothermal community will convene once again at the biggest annual event for the industry. There will be 234 papers presented in 70 hours of presentations over three days. The 2012 GRC Annual Meeting will be held at the Peppermill Resort Spa in Reno, Nevada, USA from September 30 ?October 3. The theme for this year?s meeting is Geothermal: Reliable, Renewable, Global. Registration will open in the coming months.
?The topics on offer in the technical sessions represent the major issues and geographical areas of interest in global geothermal?, said GRC interim Executive Director Steve Ponder. ?The presenters are the best and brightest of the geothermal community and their presentations are top-notch?.
More information on the technical sessions and other events at the 2012 GRC Annual Meeting can be found on the GRC website at http://www.geothermal.org.
##
About the Geothermal Resources Council:
With the experience and dedication of its diverse, international membership bolstering a more than 40-year track record, the Geothermal Resources Council has built a solid reputation as the world?s preeminent geothermal association. The GRC serves as a focal point for continuing professional development for its members through its outreach, information transfer and education services.
For more information, please visit http://www.geothermal.org. Get your daily geothermal news at Global Geothermal News [geothermalresourcescouncil.blogspot.com]. Become a fan on Facebook: http://www.facebook.com/GeothermalResourcesCouncil. Follow GRC on Twitter [twitter.com/GRC2001]. Check out GRC?s YouTube Channel: http://www.youtube.com/GeothermalCouncil.
###