National Center of Meteorology & Seismology Expands Implementation of CrossTec Remote Control Desktop Support & Management Software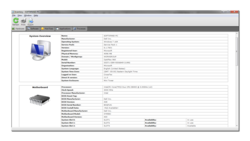 Boca Raton, FL, USA. Athens, Greece. & Abu Dhabi, UAE. (PRWEB) August 31, 2011
CrossTec Corporation and Akeydor Ltd announce today that the National Center of Meteorology & Seismology (NCMS) has chosen to expand their implementation of the CrossTec Remote Control product to include Ubuntu Linux systems for remote desktop management and support. CrossTec Remote Control is a comprehensive multi-platform desktop management and support tool for Windows, Linux, Mac, Solaris, CE, Pocket PC, and Windows Mobile devices.
?I have researched and tested so many products before I switched to CrossTec Remote Control and none of them come close to CrossTec Remote Control,? said Mohamed Shamsan, Head of IT for NCMS. ?It?s well designed architecture makes it the best multi-platform software that can easily and perfectly be used with Windows and Linux.?
CrossTec Remote Control offers a range of device management tools designed to ensure business continuity through granting secure access to critical IT infrastructure when needed most. Remote Control offers stable and secure management of devices through its feature rich, easy to use console. This streamlined management drastically reduces the time IT managers spend supporting and managing devices across their operation.
?We have been working with NCMS for over 2 years now making sure that our customer maintains full control over their IT assets by deploying Crosstec Remote Control in several of their operating environments. New versions of our product with new enhancements will enable NCMS to broaden their control and capabilities within their IT environment?, says Michael Chatzilias, CEO of Akeydor Ltd.
CrossTec Corporation and Akedor Ltd take security and data protection very seriously. CrossTec Remote Control offers comprehensive security features, from simple password protection, integration with NT security, Active Directory, and 256 bit AES encryption. Remote Control sessions can also be recorded and replayed for audit purposes. IT Directors can implement custom security profiles to ensure data protection and security of highly confidential and sensitive information within the organization. CrossTec?s Secure Gateway offers a fast and secure method to manage devices across multiple networks, or which would normally be hidden behind a firewall.
For more information about CrossTec Remote Control or to download a free 30-day evaluation, please visit the CrossTec Website if located in the United States or Akeydor Website if you are located in the UAE or parts of Europe or Asia. If you are interested in attending an informational webinar, please visit the CrossTec Events Page or contact webinars(at)crosstecsoftware(dot)com for more information.
About CrossTec Corporation:
CrossTec Corporation, headquartered in Boca Raton, FL, has been a leading provider of software solutions that simplify network and classroom management since 1996. CrossTec's mission is to empower teachers and IT managers by offering a combination of education and enterprise-tested products, substantial feature sets, superior value, and unparalleled customer service. For more information on CrossTec Corporation or the CrossTec family of products, please visit CrossTecSoftware.com. CrossTec has distribution partners across the world for their vast array of software solutions. If you are interested in finding out how your organization can become part of CrossTec?s distribution network, please contact info (at) crosstecsoftware (dot) com.
About Akeydor Ltd:
Akeydor implements business software solutions for the Remote Support and Management of desktops, servers and mobile devices in several operating systems today and within a variety of different environments. Akeydor's expertise in providing secure and flexible software programs to enable the management of a variety of systems puts us in the niche of Secure Remote Support, Management and Help Desk of all your systems today.
Akeydor has a strategic commercial relationship with CrossTec Corporation, supplier of Remote Control, Asset Management, Help Desk and Education Software based in USA. Akeydor products are being rendered across several industries, enabling organizations to operate efficiently and securely in today's multi platform and complex IT environments. Akeydor is a privately held company established in 2007 and operates internationally according to its original act of establishment statute of 9/2007.
About The National Center of Meteorology & Seismology:
National Center of Meteorology & Seismology in the UAE is engaged in the study of a broad range of atmospheric phenomena and processes, using methods ranging from mathematical analysis to field experimentation. Research projects range in size from small studies involving individual scientists to national and international programs involving teams of scientists.
The Center is concerned with: